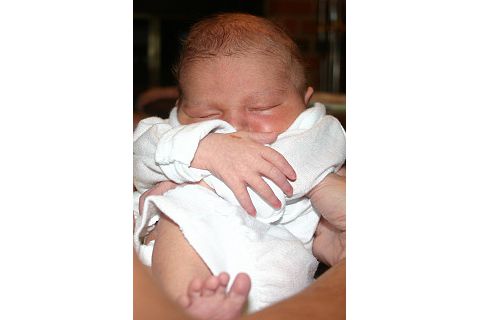 It has been over a year since I nursed a baby.
No one sleeps in a crib in our house, anymore.
And, except for nighttime, no one wears diapers anymore, either.
I don't have a baby in the house, for the first time since August, 2005, and it feels so weird.
If I could go back and talk to Amy the New Mom, I would tell her so many things -
Don't worry so much about the details, they'll work out. The sink will not always be full of dishes and the house won't always be a mess. And if it is, it doesn't matter, anyway. The only person who cares is you. All of the things you think are so important - what the baby eats, where she sleeps, all the things you worry over - they're not that big a deal. Just relax and do whatever feels right to you and your husband.
You won't always have to be with them every second of every day. You will sleep again, and once you do the sleep deprivation won't seem so bad. It won't always be this hard. There will be moments when it's really great - probably more than your fair share - so quit your bitching and just go with it, already. You're doing fine. You're not as bad at this as you think you are. Your babies are going to turn into great kids. And this baby stuff, it's only a short season in your life, in their lives, so try to enjoy the snuggles and having them all to yourself, instead of feeling stuck and resenting that they need you so much. It goes so fast, and believe it or not, you're going to miss it when it's gone.
In other words, I would say everything that other people said - all the things that annoyed the crap out of me when I was in the midst of it. But seriously, if you're a new mom and you're reading this, and you are overwhelmed and you think that motherhood is just endless work, and you're wondering what you've gotten yourself into - know that all the stuff that people say that annoys you, about how you'll miss it someday, all of it's true. Sorry.