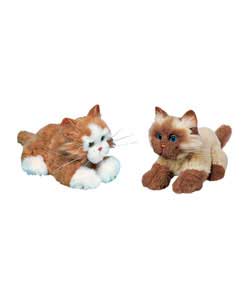 To all who have been obsessively hitting "refresh" - I'm still here. I haven't posted since Thursday because I've been spending almost all of my time refereeing fights between my kids. Ah, the gods have senses of humor - just after I post the
top 10 parenting rules
, my kids have to go and prove to me that I have no freaking idea what I'm doing.
Here's how it went down...
Claire got a really cute
Fur Real kitten from her Grandpa Ben for Christmas. It's the one on the left. It meows and purrs and kneads its paws, it is very sweet. Anyway, Mary Grace got about 10,000 presents, so it's not like she got socks and underwear and Claire got everything cool... but of course, MG is obsessed with Claire's kitten.
Claire was playing with it this morning, and MG took it away from her (for the dozenth time). I gave her a time out (again). There was a lot of crying and screaming in the time out (but she
was
on the step, I guess...). Claire, having the same tender, sweet heart that her daddy has, went over, sat down next to MG, and handed her the kitten... This after a day or three of having stuff taken right out of her hands, of being told, "NOOOOOOOO!!!" when she tried to play with one of the dozen Barbies that MG got, etc.
So what did my darling oldest daughter do when her baby sister handed her the kitty? She stood up, screamed, and hurled it onto the staircase, hitting the vertical part of a step about two feet up. The kitty bounced down the stairs and stopped working.
I went ballistic. I walked over and grabbed her by the arms, turned her around, and shouted at her. I'm not proud of this, but I was honestly livid. "Claire was trying to be NICE, she wanted you to feel better, and she gave you her kitty? And what did you do? You BROKE it! You are acting like a horrible brat, and I am sick. of. it. The next time you take something away from Claire, two princess Barbies are going in the garage, do you HEAR me? And if that kitty is broken, you are going to buy Claire a new one with your own money, now GO TO YOUR ROOM!"
I have never sent her to her room before, but I seriously wanted to tan her hide, and it was safest for both of us that she get as far away from me as possible at that moment.
Fortunately, the kitty wasn't broken. After about 5 minutes I got a very weepy Mary Grace down from her room, and we sat and talked. I told her that I would take her to buy a kitty just like Claire's with her piggy bank money, and that I was sorry I lost my temper. She apologized to me, and to Claire, and was honestly better for most of the rest of the day.
Of course the entire universe is sold out of that kitty, so we had to get one for her online.
It wouldn't be so hard if Claire were giving it back to MG as good as she gets, but Claire doesn't have a mean or selfish bone in her body. She doesn't want to take MG's stuff, she wants to play
with
her. She wants to be like MG, and liked by MG, and it just breaks my heart when MG spits in her eye instead. It makes that defensive streak that every mom has come out in me, and even though MG is just as much mine as Claire, I want to spank the snot right out of her.
I know it's normal. I know it's abnormal for Claire, at her age, to be capable of playing with MG - she should still be doing "parallel play," but she's socially advanced - probably due to having an older sister. I know it's normal for MG to think "what's mine is mine and what's yours is mine..." I know it's normal for siblings to fight - I fought with mine and the three of us are extremely close today. But it makes me nuts. I have a very hard time following my own advice to "stay calm" and "avoid a battle of wills" when it comes to kid vs. kid evilness. Do we have to buy two of everything until they're a certain age?
I think we're strung out (like a broken strand of lights) on the holidays at this point. We're out of our routine, we're strung out on sugar and carbs, we're spoiled with new toys... We're in desperate need of getting back to normal around here, and I know we aren't the only ones. Don't get me wrong, we've had a super Christmas season, with minimal holiday-induced-insanity on my part, and lots of family and friends and food and fun... But I think we've had enough. As with most things, if you have too much merriness eventually it'll make you a little sick.