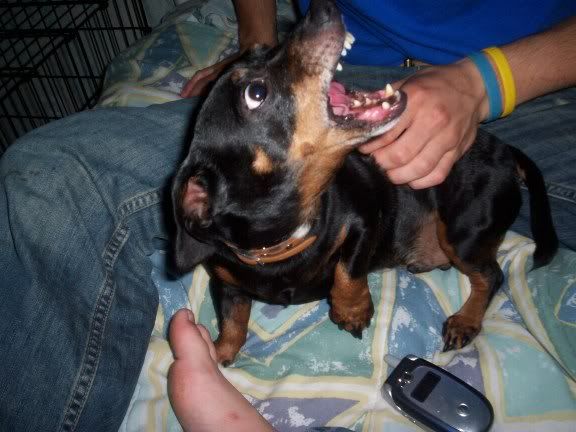 I put this post up a few days ago, then took it down because I didn't want to offend "Lola." Well, guess what... This is

my

blog, and I'm not going to edit myself anymore. If you don't like it, don't read it.

Stay tuned for my upcoming treatise on how the baby boomers are all completely insane, and have screwed up hundreds of years worth of social and cultural progress in just one generation. For now, here's the original post. Names have been changed. Unfortunately, I can't get the original poll votes or the comments back, but I encourage you to vote (early and often) and to leave comments telling me how you would handle the situation I describe. Maybe Lola will read them and get her rectal/cranial inversion fixed...

Here's the post. Goodnight, kids.
I am being given the silent treatment by someone very important to me. We will call her Lola. Lola has a dog, we'll call him Charlie, who is about 14 years old. Charlie has been mean his entire life. He has bitten dozens of people. He bit Mary Grace when she was about 15 months old. He's blind and has a host of health problems that have only made him more and more vicious.
When Charlie bit Mary Grace, Lola and I agreed that whenever Mary Grace (and subsequently, Claire, of course) was around, Charlie would either be muzzled or put in another room. Considering that I knew Charlie's history, I really should have insisted that Lola put him down, but I didn't want to break Lola's heart.
We were at Lola's house, recently, and she had Charlie sitting under her feet. One of the kids came near her, and she shooed her away. "Doesn't he have his muzzle on?" I asked. "It was irritating him, so I took it off, but he's fine, I've got him." "He wasn't half as irritated as I'm going to be if he bites one of my kids," I replied.
I gave myself some time to calm down, and a few days later I called Lola. "Look, Lola," I said, "When Charlie bit Mary Grace we agreed that he would either be muzzled or put away when the girls were at your house, and we've* gotten pretty lax about that. I want you to understand that if you take the muzzle off of him when we're there, again, we will leave, and we will not come back until he is dead," (whether by natural causes or not isn't my choice).
(*Notice that I said "we" and took responsibility for my own complicity in the situation.)
Lola said that she had control of him at the time, and that he was no threat to my kids. I reminded her of two times (that I am aware of) that Charlie has bitten adults while he was in Lola's arms. She said, "That's different, they provoked him," I said, "You don't think my kids could provoke him, too? You don't think that it could happen so fast, that there's nothing you could do to stop it?" Then Lola got offended that I would accuse her of putting my children at risk. I said, "I don't think you're doing it deliberately, but I think you have a big blind spot when it comes to Charlie." This went on...
I finally said, "Look, the bottom line is that BJ and I have discussed this, we're their parents, and we will not risk this. We would have to live with ourselves if something happened, and we don't want to have to try to do that."
Lola hung up on me and hasn't called me since.
As it stands, now, Lola and I have had it out again (both in e-mail and on the phone), and I have told her that we will not be returning to her house as long as Charlie lives there. She said that she'd put him in the upstairs bathroom, and that she doesn't understand what the big deal is.

Lola, if you're reading, I just want to reiterate - the big deal is that you have not acknowledged that you were wrong to take his muzzle off (especially without consulting me, because you put my kids in danger. And you did so after I had made my wishes on the matter crystal clear). If you simply say,
"I'm sorry, I was wrong to take his muzzle off. It was not safe. It won't happen again,"
then I can trust that you understand my point and will respect my wishes. Until you do, I won't feel safe in your home. You are welcome to visit us here.