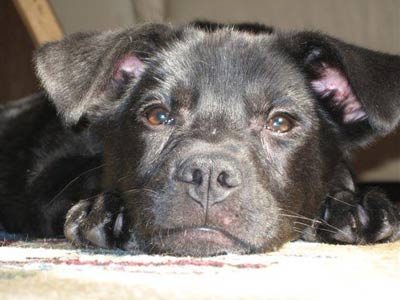 It wasn't this puppy. It was a very similar looking male 9 week old puppy that was not quite free ($10) at the farmer's market today.

I called BJ and practically begged to bring him home. Astutely he said, "Are you calling to ask permission, or to tell me that you're bringing home a puppy?" Ha. He advised that I take some time to think about it.
His paws were huge. I'm sure he'll weigh 100 pounds when he's fully grown. And he hadn't been fixed, or had shots, or been checked for worms, or any of the other expensive things you have to do with puppies.
But I wanted him. Oh, the puppy lust. It gets me every time.
We drove around and looked for furniture for Grandpa Bob's new apartment. We thought about it. I thought about it. I thought about potty training. I thought about the new kitchen floor. I thought and thought.
We headed home at about 6:30 and the farmer's market is just another mile or two from home. I decided to go by on the way home and see if he was still there, and maybe take that as a sign and buy him if he was.
He wasn't. They were packing up their van, and the dog had found a home.
It wasn't meant to be.
His name, for a little while, was Bruno.
(BJ would like to request that you do not comment, e-mail, or call to offer me puppies. Thanks.)